Pratidnya Hall - Marriage Halls in Pune
Established in the year 1998, we are dedicated to providing Catering Services and Marriage halls in Pune. We provide the hall for Birthdays, Marriages, Anniversaries, Family celebrations and Special Events. We are successfully delivering services as the reliable luxury in past two decades. We have been experiencing 100% satisfaction on the faces of our esteemed customers after having memorable celebrations.
We provide modern facilities, yet we have maintained the traditional importance and beauty of the events. We are good at keeping up relationships and knowing the likings of our customers. Customer satisfaction is our primordial goal. Right now, we have blossomed into a full-fledged organization having gone through adventurous steps in the beginning.
We have satisfied the appetite of orders ranging from 50 to 1,000 people beyond the boundaries of Pune. As we are equipped with ultra modern crockery and the great experience, we indeed feel happy and are ever ready to serve.
Pratidnya Hall is one of the best Marriage Halls in Pune. We provide services for the wedding function and make your wedding a memorable day. Pratidnya hall is a perfect choice for your wedding day. Avenue that is suitable for large weddings and other wedding functions like ring ceremony, sangeet etc. We also organize Birthday Parties for your loved ones. Pratidnya Hall offers the perfect balance of quality, good ambience & delicious food. A wide variety of options of the menu are available, you can choose as per your requirement. 
Personal, attentive service combined with exceptional food quality is a hallmark of Pratidnya hall.We are specialized in Large and Elegant banquet, Beautiful Wedding, Anniversaries, Ring Ceremonies and Birthday Parties. We take responsibility to consistently deliver delicious food and catering ideas to make every Individual function unforgettable and distinctive.
Deciding on the perfect Marriage Halls can be a little bit tricky, what with so many options out there. But, if you want your Marriage to be absolutely dreamy, then let us help you. Only at Pratidnya Marriage Halls based in Pune beautiful banquet area is perfect for playing host to a large number of guests, who will most certainly be impressed with our world class services. And don't worry, we keep in mind your vision, your requirements, your budget and most important of all, your happiness, on this very auspicious and memorable day only with Marriage Halls in Pune.
Our Commitment: We Will Make Your Wedding Day A Memorable
We provide Catering Services for holding various functions
Wedding Functions

Birthdays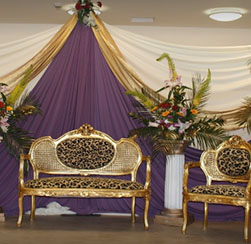 Anniversaries
Ring Ceremonies
Our History in Photos
We provide modern facilities, yet we have maintained the traditional importance and beauty of the events.